About Essentia Solutions
Essentia Solutions provides a range of therapeutic services for children, adults and families that are designed to create positive changes for the mind, health and self. This includes Solution Focused Hypnotherapy and Psychotherapy, Theraplay® principles, Therapeutic family Guidance and relaxation classes.
Leanne Astalos
About Me
I'm here to provide a non-judgemental environment in which you can focus on what you want to achieve, helping you to become the best version of yourself. It is important to me that any approach I take is well researched with a strong evidence base in neuroscience, so you can have confidence in the results that can be achieved.
I have worked with children, adults and families for over 15 years. Everyone has their own story to tell which makes each client unique but they all share the fact that they very much want to make changes that will make them happier and I am honoured to be in a position to help make that happen. I have always found it very rewarding to be able to make a difference to those people who have found themselves at their most challenging times in life. I can work with individuals or families and identify the right approach for them to make the positive changes that they need.
My therapeutic approach has been developed over many years, informed by neuroscience and attachment theory.
I am a fully qualified SWE (reg SW13045) registered Therapeutic Social Worker with a background in adoption. I am a CNHC (reg. 00000061-I18) and NCH (reg. 8204) registered Solution Focused Hypnotherapist. I am able to use the following approaches in my work with clients: Solution Focused Brief Therapy, Clinical Hypnotherapy, Theraplay® principles, Mindfulness, Rewind Trauma Therapy, Brick Therapy, and I create individual Therapeutic Stories for children. I am able to offer appointments both remotely using Zoom, and in person appointments.
Leanne is currently working for the East London NHS Foundation Trust with the Bedfordshire Wellbeing Service whilst also undertaking a Postgraduate Diploma in Higher Intensity Therapies.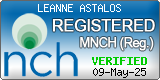 Location
My private practice is based in the quiet village of Stanwick in Northamptonshire, situated between the towns of Raunds and Rushden, with easy access from Wellingborough, Thrapston and the surrounding area via the nearby A45. I work in schools and speak at corporate and non-corporate events in and around Northamptonshire, Cambridgeshire and Bedfordshire. I will provide home based sessions in exceptional circumstances within a 15 mile radius. I can also offer Skype appointments.
My areas of expertise include
Children and adults who have experienced, loss, trauma and abuse
Attachment disorders
Adoption
Post Adoption Depression
Post Natal Depression
Family difficulties
Mental health difficulties including: Anxiety disorders and Depression, OCD
Stress
Anger management
Addiction
Life Story Work